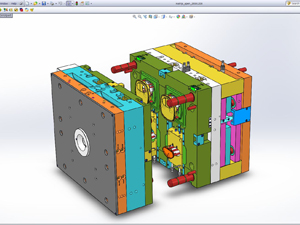 The production of plastic parts depends on the mold. To create the optimal result, a part first has to be designed with the production method in mind.

Plastic solutions helps you to make the right choices for the development and procurement of the mold. Each choice will influence the economic feasability of the project. The goal is to analyse all these aspects carefully.

Tolerances

Production volume

Hot-runner and cold runner

Steel type

Number of cavities

2K-components

Short cycles

Cooling, shrink, venting, safety, cores, ...

Due to the fact that a mold is an expensive piece of tooling, it has to be procured from the right company. For this we work with different mold makers on national and international level, each with their speciality, quality and price. We manage procurement, technical specifications, trials and all other aspects of the mould. Depending on your requirements we select the right mold producer.